What if the Millennium Falcon landed on an art gallery?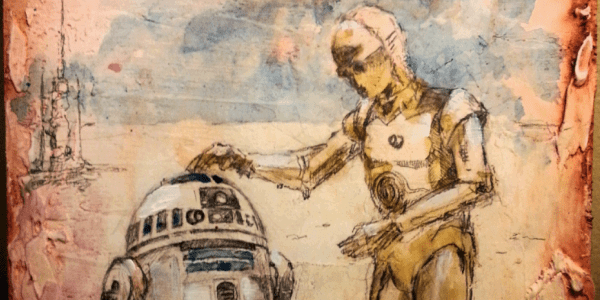 "R2D2 C3P0 BFF" 9×9 mixed media on wood panel (cropped)
Dan Addington is a Chicago artist who specializes in encaustic painting, using a variety of materials and thick textures that emphasize paintings as visceral objects, evoking physical presence but mediating a deep, spiritual ethos (read his full bio here).
I've long been a fan of Dan's work and when I discovered his recent series of "Star Wars" themed paintings, I decided to ask him some questions. Here are my questions (KR), Dan's answers (DA), and a few of the images to boot:
KR: The subject matter (Star Wars characters) is a pretty big departure from your previous fare. What prompted a serious artist to take this turn?
DA: Earlier this year, I decided to do some large paintings for my 7 year old son's Star Wars-themed birthday party. We were holding the party in my gallery space, and I felt like we needed something on the walls besides posters, decals, and the standard birthday decorations. I had 3 large canvases that had been sitting untouched in the studio for years (I typically work on panel).
On a lark, I did life-sized paintings of Darth Vader, Luke Skywalker, and Yoda in a style and with materials and colors that I don't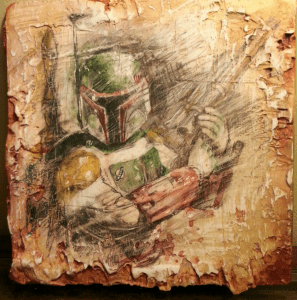 "Have You Met Boba Fett?" 9×9, mixed media on wood panel.
typically use. Often artists in any discipline discover that when they do something outside of their usual approach, it can be very rewarding, and in some cases can lead to new ideas or breakthroughs in their work. I really enjoyed working with a wider range of color and paint, as opposed to the mixed media techniques of tar and wax that I usually employ.
We had the party and the parents dug the paintings, but I don't think the kids really noticed them. They were too busy dueling with light-sabers.
Last month I was picking up my son from school, and I got into a conversation with a friend who was at that birthday party with his son. He mentioned those paintings, and showed photos he had on his phone to another dad who was also standing there. That dad turned out to be the owner of Metropolis Coffee Company, which operates a large, well-known cafe/coffee shop on the North Side that regularly exhibits art. He asked me where those paintings were now, and I said "in storage" (they were way too big for my son's room).
He suggested that with the new Star Wars movie coming out soon, it would be a great time to show them at the cafe. Of course, I couldn't leave it like that, and decided to take the opportunity to create a series of small pieces to accompany the three large paintings that were already completed. So, I started working on this series using 9 inch square wood panels, and using mostly graphite and acrylic, which looks a bit like watercolor in many of the pieces.
KR: Your usual method (encaustic) is a very interesting way to put these familiar characters in a different setting. Have you found that to be an appealing aspect of this project? Taking these guys (and gals) off the screen and into the depth of your materials?  (I feel like it kind of gives them a mystical and spiritual orientation in a way that the big screen sometimes lack.)

Readmore:  Christian painting