Lucerne which is also called Luzern is a beautiful town that sits at the foot of the Alps in Switzerland. We spent a couple of days here, wandered the old town and did a few trips to little Swiss towns nearby. One of our favorite trips was a day trip from Lucerne to Mt.Pilatus and a trip to a cheese factory in Schwyz where we tried fondue for the very first time. Visiting Mt. Pilatus is a must-do when you are in the Lake Lucerne region. You can spend a day in Lucerne and also visit Mt. Pilatus.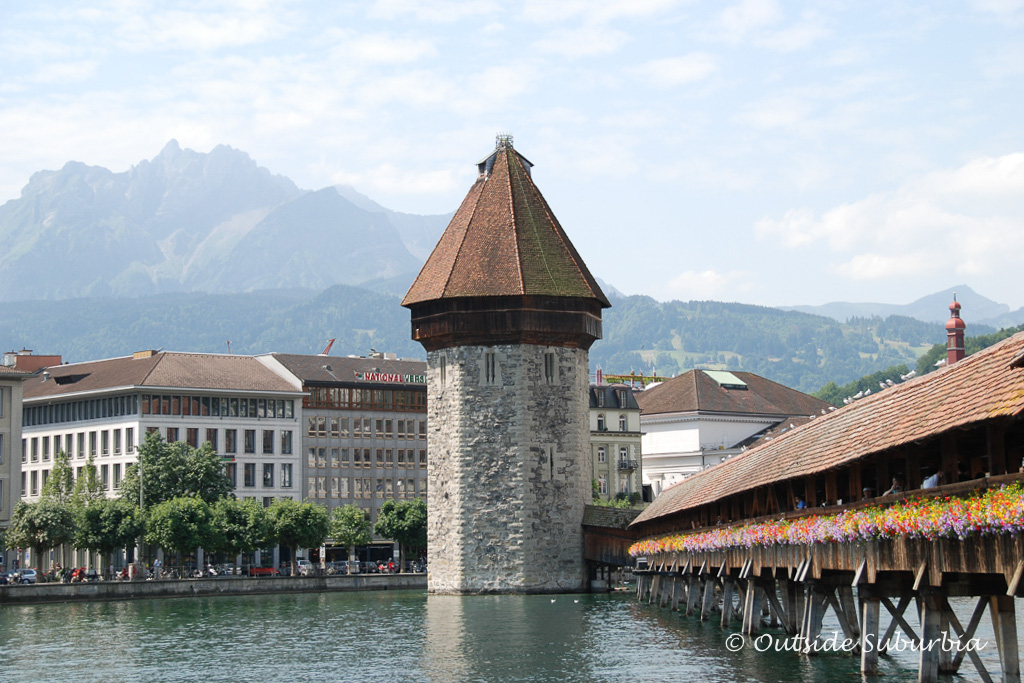 Things to do if you have a day in Lucerne
Lucerne is a small town and you can visit most of the sites and attractions in an afternoon. We stopped at a market and the Chapel bridge on the way to Mt. Pilatus. Originally a grain market. Kornmarkt, today is a modern square with nice and modern buildings all around. We stopped at the farmers market to pick up some fresh fruits, checked out some watch stores before heading to see the medieval buildings located nearby.
Shopping for chocolates, watches and more
When you think of Switzerland, you probably think of watches, chocolates or those handy swiss army knives. Someone bought his first every luxury watch here in Lucerne. But there is so much more to buy in Lucerne than just watches and chocolate. The Old Town area is full of charming stores and souvenir shops. If you are in the market for watches, Switzerland is the place to buy them, from Rolex to Omega there are so many boutiques. There are many exclusive watch brands available here, the largest being the Bucherer showroom near the antique wooden bridge.
Don't miss the farmers market along the Reuss river bank, happens every Tuesdays and Saturday mornings.
Kapellbrücke (or Chapel Bridge)
The Kapellbrücke (or Chapel Bridge) is a covered wooden footbridge spanning diagonally across the Reuss River named after the nearby St. Peter's Chapel.  The bridge is unique since it contains a number of interior paintings dating back to the 17th century, although many of them were destroyed along with most of the centuries-old bridge in a 1993 fire.  It has been restored, Kapellbrücke is the oldest wooden covered bridge in Europe as well as the world's oldest surviving truss bridge.
Halfway along the bridge is the octagonal Water Tower, Switzerland's most-photographed historical monument. Right next to the Chapel bridge is the Wasserturm, which was once served as the prison and torture chamber. Jesuit Church and the Church of St. Leodgar are other places to visit.
The Lion Monument
The Lion Monument is a carving of a lion which you can find in a sandstone quarry a few minutes from the old town of Lucerne. The sculpture of the mortally wounded lion is known to be the most mournful and moving piece of stone in the world. It commemorates the Swiss Guards who were massacred in 1792 during the French Revolution when revolutionaries stormed the Tuileries Palace in Paris. It is one of the most visited attractions in Lucerne, Switzerland and